Description
Show your love this Valentine's Day and give back to Paws New England! With your purchase of one of our exclusive Valentine's Day cards, you'll be giving a special gift to the animals in need of rescue. Choose from our selection of heartfelt messages that celebrate love, and contribute to the mission of saving dogs in need. With each card you buy, you'll be helping to provide the furry friends of Paws New England with the care they need and deserve.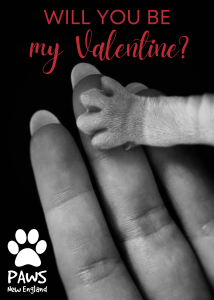 Choose from the following interior messages:
Option 1: For your dog
My dearest pup, You may not understand it, but my love for you is like no other. On this Valentine's Day, I want to let you know how much I cherish you. You always bring me so much joy and companionship. You are my loyal best friend and I cannot imagine my life without you! Happy Valentine's Day, Your loving human
Option 2: Fill my days with joy, love and happiness
Happy Valentine's Day! You fill my days with joy, love, and happiness. I'm so lucky to have you in my life.
Option 3: My one and only
Wishing you a Valentine's Day filled with love and joy. You are my one and only and I'm so grateful for your love.